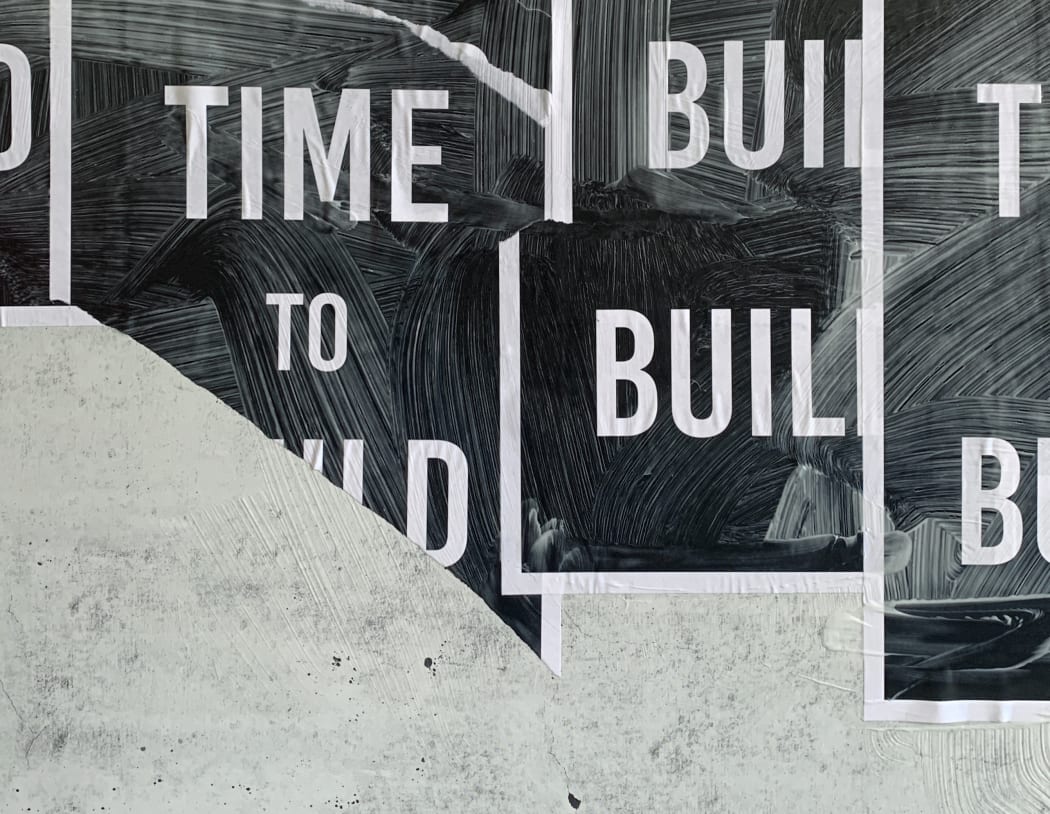 Guerrilla art is anonymous art out in the wild.
Guerrilla art is street art and you don't need to be handy with a spray can to do it. You just need to make art you can install anonymously in public places. I'll tell you how.
Fresh out of art school I was part of a guerrilla art collective in Lexington, Kentucky called The Burrow Society. We were called the Burrow Society because we met at my apartment and my roommate, Sarah had two large rabbits that freely roamed our home.
A CElebration of culture
This was during a time when our beloved City was going through some major changes. A historical city-block that held our favorite bars, restaurants, venues and boutiques was demolished to make way for CentrePointe, a large hotel and retail center for the upcoming 1st Annual Equestrian Games.
My cohorts and I wanted a way to celebrate Lexington's unique culture and we wanted to give our community some hope and joy during a time of heartache and change.
Guerrilla art was the perfect way to make our voices heard. It allowed us to work independently or as a collective, and our work was magnified by the anonymity of the artists at play.
In this article:
I share some of the guerrilla art projects we did as the Burrow Society and some I did alone.
I'll also give a list of guerrilla art projects you can try.
I share examples of other guerrilla artists work that inspires me.
During this time of global crisis, can you find ways to use art to strengthen your community and build a future around love, beauty, compassion and delight? I hope these stories embolden you to do a guerrilla art project of your very own!
Origami
The first guerrilla art project The Burrow Society created as a group was a gate of paper cranes. The Burrow overlooked a parking lot and when my roommate and I would take our tea in the morning, we'd notice groups of migrant workers squeezing through a hole in the fence on the far side of the lot each day.
We decided to adorn the opening with paper cranes to say hello. We would need hundreds of cranes to make an impact so we asked friends to help out and an art collective was born!
The fence turned out beautiuflly. The cranes held their shape over the summer and brought joy to lots of passersby. Armed with the triumph of a huge success, we pressed on.
Money Jars
One day Sarah and I filled a jar with quarters and stuck it in the parking lot early one morning. We perched back at our kitchen table to eat breakfast and watched out our window to see what would happen. Eventually, a man came by, emptied the quarters into his hand, slowly counted them and smashed the jar on the pavement. Not exactly what we expected.
When your art is out in the wild, it might not get the reception you imagine. This is part of the fun and excitement.
Secret Party
I made three hand-painted flyers on wood announcing a secret Thursday Night Dance Party and placed them in my favorite places around town. A local bar agreed to host us and I had a friend in town who could DJ. The crowd was small but everyone had a great time. This guerrilla art project was a fun way to bring strangers together IRL.
ROAK
I first heard about Guerrilla Art in a book I bought at the legendary "Third Street Stuff and Coffee" called "Guerilla Art Kit" by Keri Smith. The book inspired me to create my very own holiday I called "Love Fest, 10 Days of ROAK" starting on my birthday and ending on Valentine's Day.
What is ROAK you might ask? ROAK stands for Random Acts of Kindness and it is the easiest way to delve in to guerrilla art. All you have to do is find ways to be kind to strangers, and in the spirit of guerrilla art, you do it anonymously.
I did little things like leave wildflowers on people's doorsteps and post flyers on city bus-stops and sign-posts that read, "You are loved." I had such a happy birthday imagining all happy faces on witnesses to my most sincere and loving works of art.
Here is a list of 50 places to leave RAOK of your own!
Seed-bombing
One night the Burrow Society met up with bags of wildflower seeds and a bin of clay soil. We formed little balls with the seeds and dirt and that night, in homage to our lost hangout, now deemed Center-Pit, we planted wildflowers by hurling seed-bombs into the cavern where our favorite places used to be. That night was as perfect as can be, right out of an Arcade Fire song. I know I'll never forget it and I don't think my friends will either.
The following spring, there was still no hotel at Center-Pit but there were wildflowers growing in an open field. Let nature do the talking. Follow-up article about nature & art soon to follow!!!
More GuErrilla Art techniques
Yarn bombing
Yarn bombing is a type of graffiti that employs colorful displays of knitted or crocheted yarn or fiber rather than paint or chalk. It is also called yarn storming, guerrilla knitting, kniffiti, urban knitting, or graffiti knitting. Imagine a tree wearing a sweater. I've never tried this but I'd like to! See some impressive examples of yarn bombing here.
Flyposting
Flyposting is when you use wheat paste to post repetitive flyers on a wall. I recommend using wallpaper paste for this instead of wheat paste because it's easier and flour is hard to come by these days. If you want to go this route, I recomend you check out Shepard Fairey to get started.
Googly Eyes
Let people know someone is watching!
Post googly eyes everywhere, on parking meters, gallons of milk, street signs, swing sets, anywhere! Google eyes always get a giggle.
Chalk
Write or draw on the sidewalk, road or buildings with chalk. You can write messages to the general public or surprise someone special with a message just for them!
FAMOUS GUERRILLA ART PROJECTS:
That time Banksy put his own artwork in the Tate Britain.
When artist Barry Thomas and friends planted 180 cabbages on the demolished Roxy Theatre site that spelled out the word "CABBAGE"
When Wanksy fixed the pothole problem.
More and more guerilla art projects
This beautiful mailbox in Indianapolis
Fairy Doors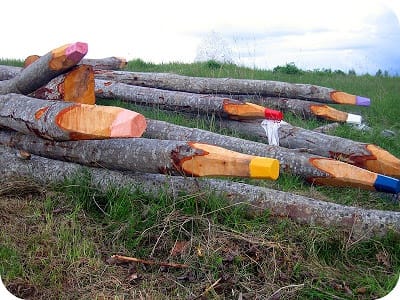 Fallen trees as colored pencils
TIME TO GET STARTED!
In this article, I talked about ways I've made guerrilla art and how guerrilla art can bring people together. I gave you a list of techniques to use and examples of other artists guerilla artworks.
ART WHEN WE NEED IT MOST
Guerrilla Art is the perfect way to speak to your community lovingly and truthfully when we need it most. Now it's time for you to bring your art into the wild, whether it's RAOK or flyposting, or anything else, reach out to your community now with guerrilla art!
Start brainstorming where to place art, what you want to say with your art, and what techniques to use by asking yourself questions like this:
"How can I bring attention to __________?"
Ex. global warming, litter on my street, a beautiful tree...
"How can I help ________ feel seen?"
Ex. senior citizens, moms, healthcare workers....
"wouldn't it be magical if______?"
Ex. Trees were pink, birds could talk, flowers grew out of potholes...
After all, whatever anonymous art you create is easily magic to someone else.
THERE ARE A FEW RULES TO KEEP IN MIND.
Don't make a mess that someone else will have to clean up. Either use materials that will biodegrade quickly or set a date to come by and repair or remove the installation.
Don't disrupt private property.
Safety first. A lot of guerrilla art projects go up at night. Consider the risks.
For more information and inspiration, read Keri Smith's "Guerrilla Art Kit"
What can you create that will have an impact on the people around you? You never know how just how far your art can reach and how magnified it can become.
One thing we do know is we are in this global pandemic together. Any artistic contribution you make to society big or small is an important one so get busy creating!
If you found this article useful, please share it! Leave any questions and comments in the comment section below. I would love to hear from you! You can also find me on Instagram @adelegilani. Reach out to me in the DMs if you want to collaborate on a project.
Don't forget to subscribe to my newsletter so you can get inspiring articles like this in your inbox! Thank you! <3 A
.