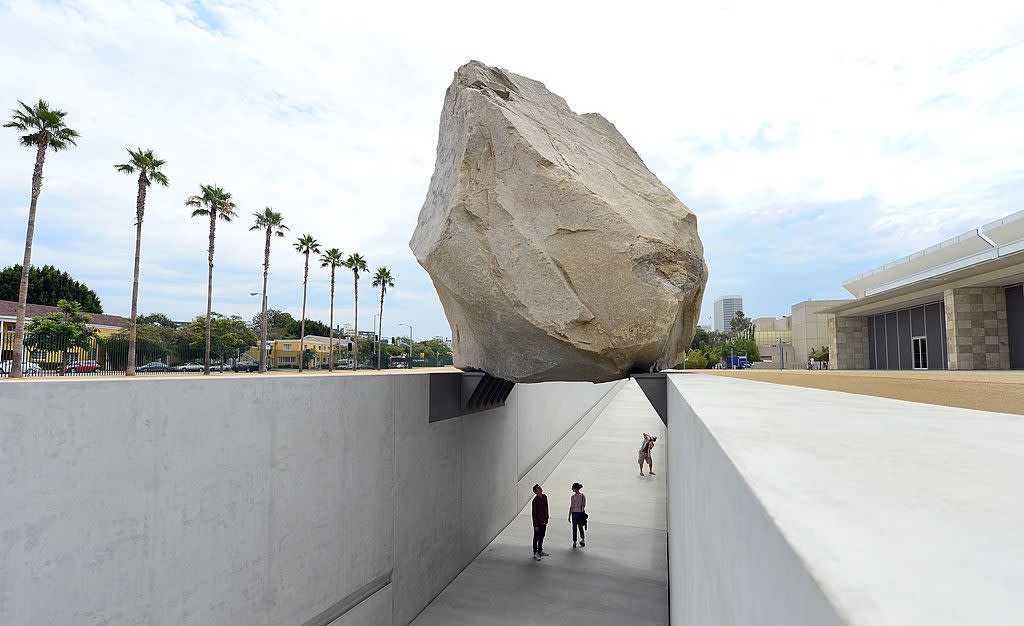 Are you looking for artistic inspiration? Look no further. Mother Earth is a magical muse. Follow along as I show you nine ways artists let nature be their guide including:
Reimagining nature
Using natural materials in traditional artforms
Sustainability and Conservation
Floral Art
Art that Interacts wtih Nature
Sculpting with nature
Plein Air painting
Guerrilla gardening
Art with kids
I hope this post inspires you to find ways to bring more of the natural world into your work.
Reimagining Nature
"Great art picks up where nature ends."

Marc Chagall
You can paint nature as you see it or you can paint it as you smell it, hear it, taste it and feel it. You can incorporate your very personal marks into the sky and Earth and create a place that is both familiar and mysterious. This is the way I paint so I'll start this artist round-up by sharing my own artwork.
Adele GilanI's stylized destinations
Adele Gilani, Road to Hana, 2019
I love to incorporate words, glitter, stencils and paper into my nature scenes. I want to show the suduction of nature as well as the elegance and freedom of the great wide open. I like to celebrate travel and vacation in my work with vibrant images of places I love reimagined.
Peter Doig's Mysterious landscapes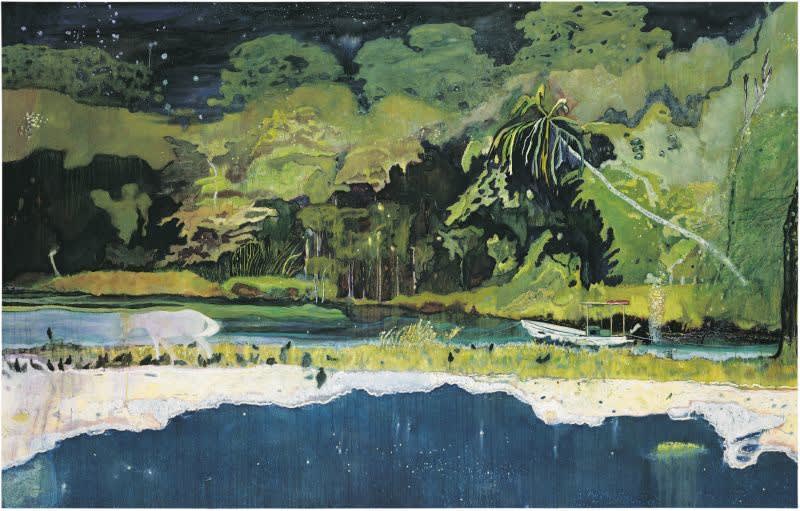 Peter Doig, Grande Riviere, 2001-2002
Doig's work expresses the inadequacy of contemporary man isolated and lost in the face of this wonderful nature. Artsper Magazine
charles Burchfield's secret language
Charles Birchfield, The Four Seasons, 1949-60
Burchfield's career was defined by his desire to develop a system of gestures and symbols that synthesized and gave form to sentient perception in all its dimensions. Frieze
.Lina Tharsing's painterly memoirs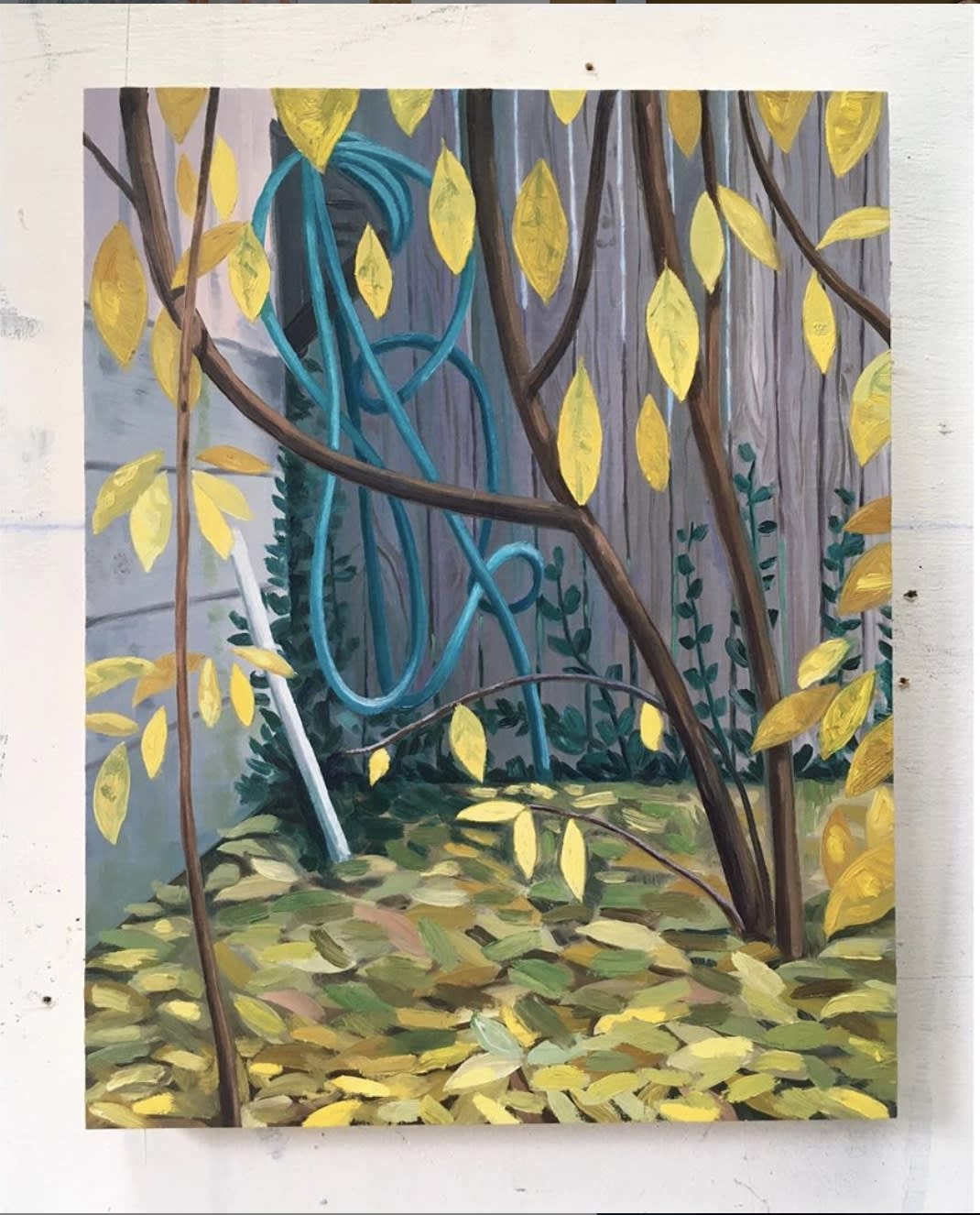 Tharsing paints nature scenes about her life and personal vulerabilites. Her father and mother were professional painters and they Tharsing with a deep spiritual understanding of nature and mastery of painting.
natural materials, traditional art forms
"An artist must possess Nature. He must identify himself with her rhythm, by efforts that will prepare the mastery which will later enable him to express himself in his own language."

Henri Matisse
Melissa Dickenson's undulating terrains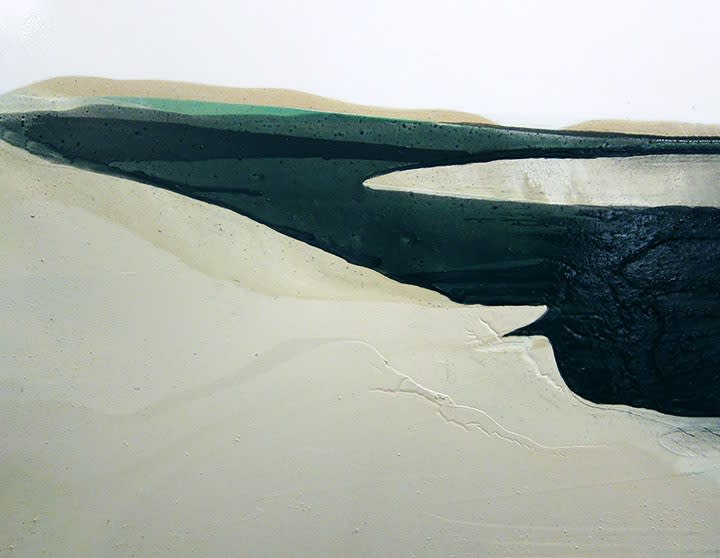 Melissa Dickenson, Sonoma Gulch, 2019
Dickenson creates paint from the pigment of ground soil, sand and silt she collects while out exploring various terrains. Dickenson sandwiches earth pigment with acrylic paint between polyethylene films and raw canvas. She then uses her body pressure to manipulate the paint within the plastic barriers. Kimper Fine Art
Damien Hirst's Butterflies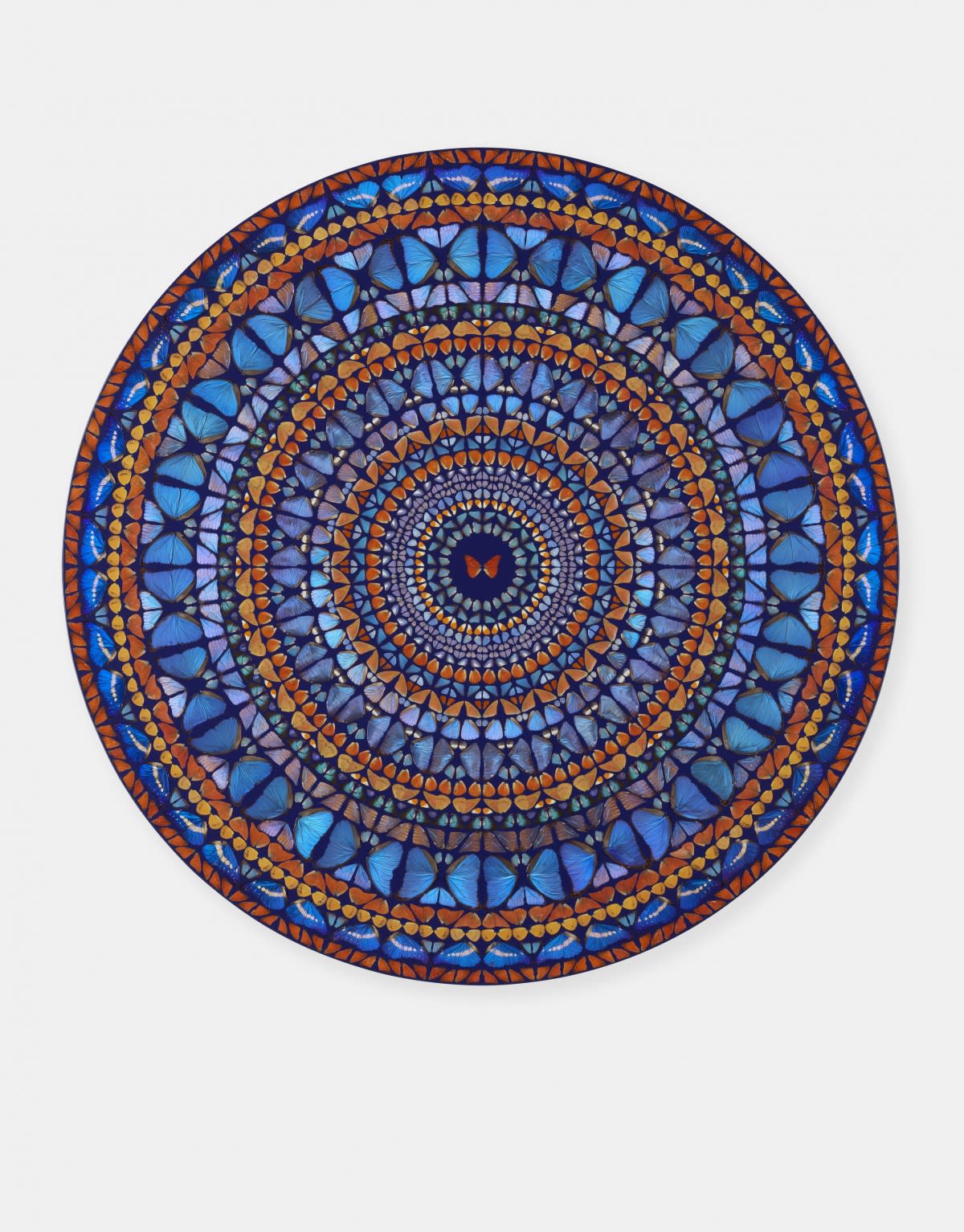 Damien Hirst, Baptist, 2019
The Guardian got it right when they said, Damien Hirst's butterflies are distressing but weirdly uplifting. Damien famously said of his work, "Art's about life and it can't really be about anything else … there isn't anything else." Hirst's work investigates and challenges contemporary belief systems, and dissects the tensions and uncertainties at the heart of human experience. DamienHirst.com
Sheila Hicks' Minimes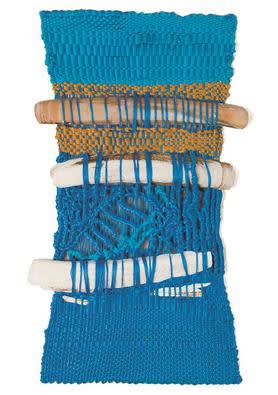 Sheila Hicks, Chimera, 2013
While Hicks is best known for such large-scale works, she has also been a prolific maker of miniature textiles. Using a handloom, she incorporates unexpected materials like porcupine quills, feathers, steel fibers, and bamboo into small abstract compositions, which the artist playfully calls her "minimes." Artsy

sustainability and conservation
"The funny thing about sustainability is you gotta sustain it."
Ron Finley
CHRIS JORDAN's call to action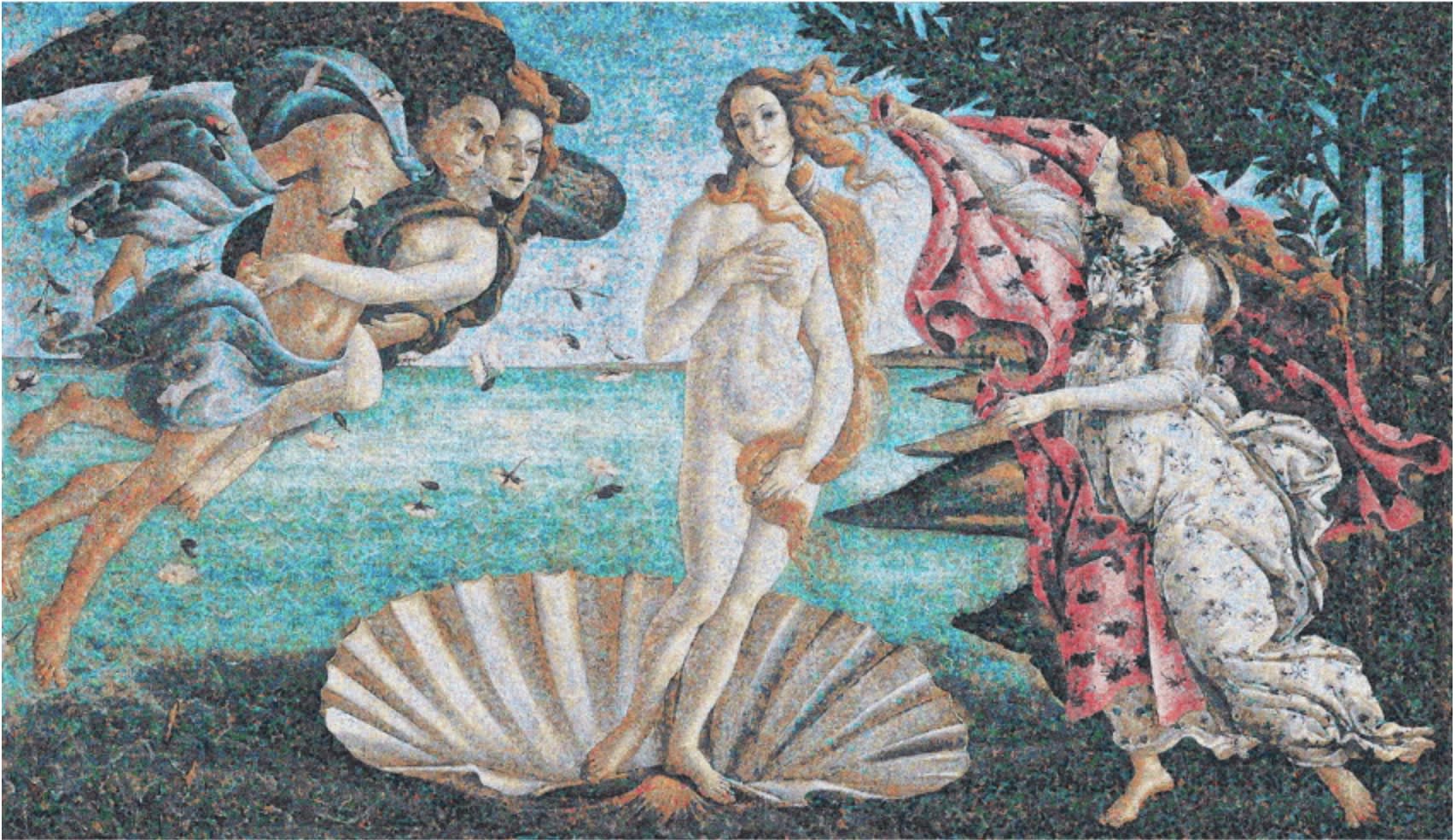 Chris Jordan, Venus, 2011
Venus depicts 240,000 plastic bags, equal to the estimated number of plastic bags consumed around the world every ten seconds! Seattle-based artist and photographer Chris Jordan exposes consumerist culture and uses shocking images of plastic waste to remind us about how we are destroying our planet.
Barry Underwood's Electric Landscapes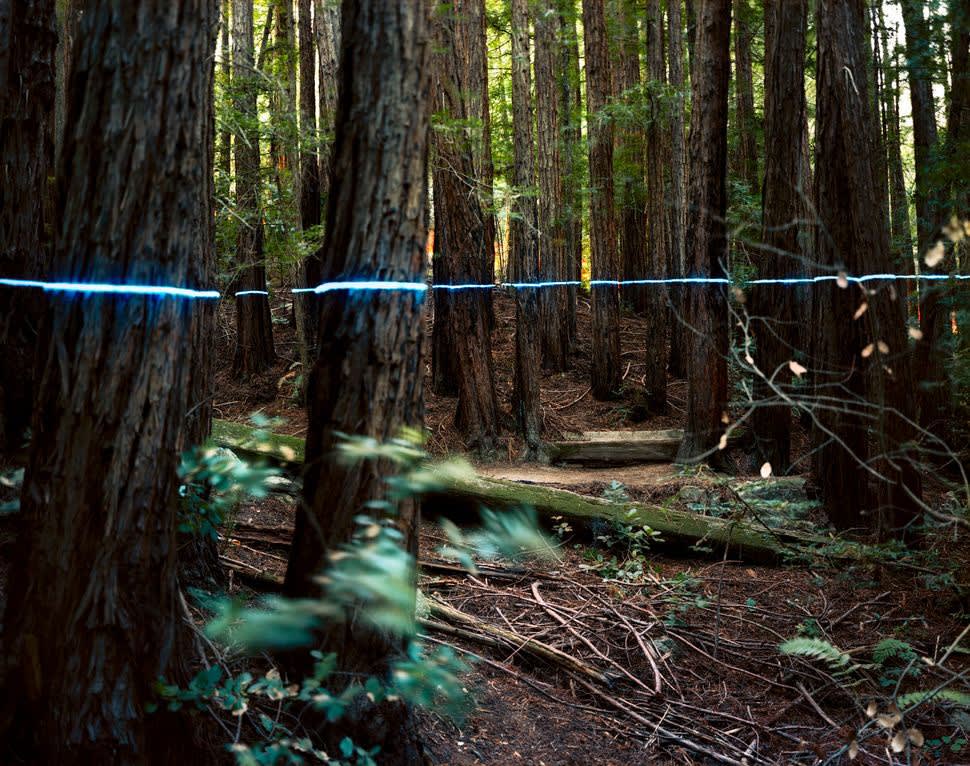 Environmental awareness has never looked so trippy. Glowing blue orbs and bubbling red waterfalls add a supernatural touch to the already mystical landscapes, hinting ever so subtly at the impending consequences of technology and pollution. Yet instead of a moral lecture we get a supernatural fable whose beauty distracts us from any singular message. Huffington Post
Jason Mecier's pop portraits
Pop Artist Jason Mecier creates one of a kind outrageous mosaic portraits. He meticulously fabricates anybody out of anything, from Kevin Bacon out of bacon, to Honey Boo Boo out of 25 lbs. of trash. Jason Mecier
NAZIHA MESTAOUI'S VIRTUAL FORESTS
Mestaoui is a projection mapping artist. In this exhibition she plants a virtual forest on the Eiffel Tower with your heartbeat tracked by a phone app. A real tree is planted for each digital tree IRL.
Floral Art
"Look deep into nature, and then you will understand everything better."

Albert Einstein
Tiffany Turner's Paper Flowers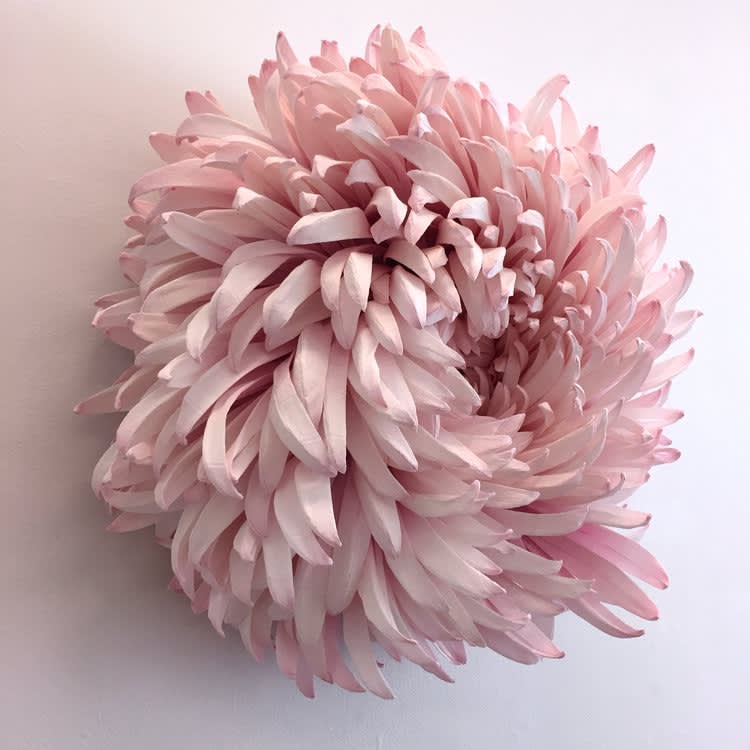 Tiffany Turner, Irregular Incurve Chrysanthemum, 2016
Tiffany is an artchitect and paper artist who makes large flowers. Tiffany says, "I can use the asymmetrical movement of an inexplicably large and somehow distressed or deformed head of a flower to tell some tales of the beauty and transience, of life, and the perfect, gigantic head of a flower to offer some hope, too." papelsf.com
Matthew Baker's Wabi Sabi Floral arrangements
Photo by: Rose Caravane
Matthew incorporates both living and dead flowers in his floral arrangements. He likes to showcase all phases of life in his work.
Anthony Ward's Flower Dance
Anthony Ward dances on stage with flowers while creating beautiful arrangements. He says, "If you have to ask what I'm doing, you're missing the point."
Make art that interacts with nature
"The artist is a receptacle for emotions that come from all over the place: from the sky, from the earth, from a scrap of paper, from a passing shape, from a spider's web."

Pablo Picasso
Christo's Floating Piers
Christo and his wife Jeanne-Claude are known for creating new ways of viewing landscapes by swathing them with colorful fabrics.
The Land Art Generator
The Land Art Generator provides a platform to bring forward solutions for sustainable energy infrastructures that reflect culture and enhance the city as works of public art.
Sculpt the Earth
"Study nature, love nature, stay close to nature. It will never fail you."

Frank Lloyd Wright
Nils-Udo's Plant creations
Nils-Udo, Vallee, 2019
Nils-Udo celebrates the beauty of nature by working with found materials—such as leaves and branches—to create stunning, site-specific works. Nils-Udo
Andy Goldsworthy's Ephemeral Sculpture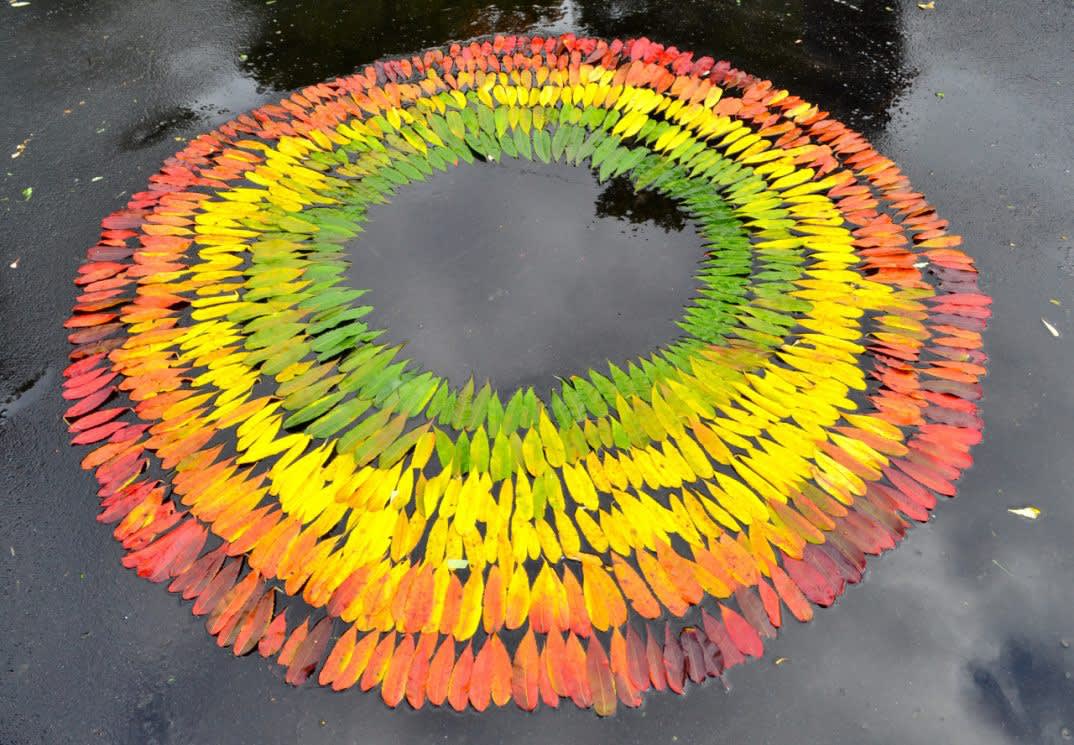 Andy Goldsworthy uses materials found in nature to create site specific works of art. Does this look like something you could do? Get busy creating!
Michael Heizer's boulder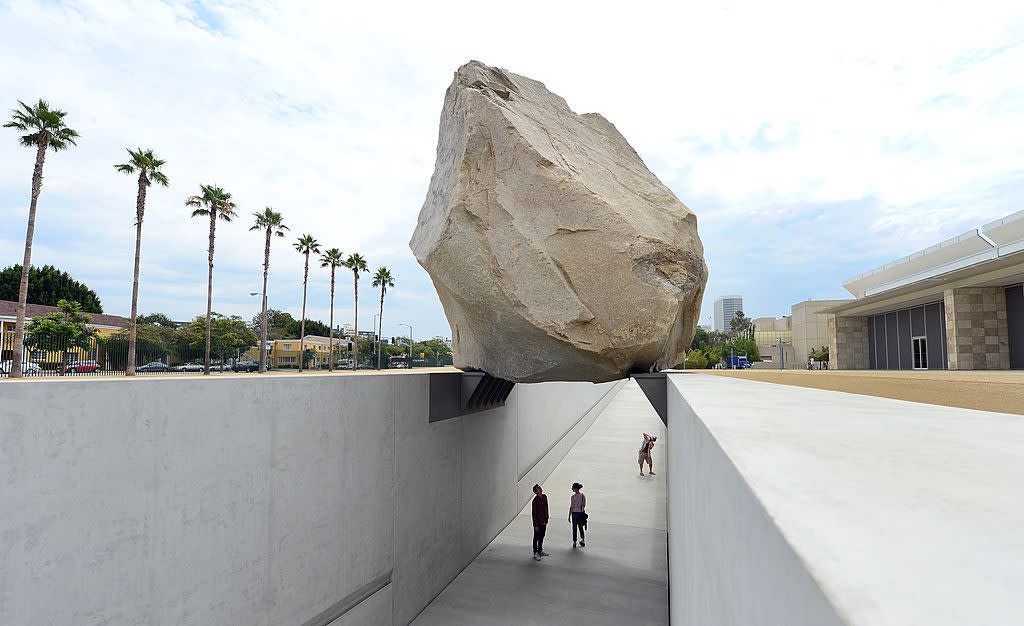 Michael Heizer, Levitated Mass, 2012
A stick and a pebble jump off a cliff. Who jumps first? The pebble because he's a little boulder. Hehe. Michael Heizer was one of the first artists to create Land Art. He wanted not only to create artworks at monumental public scales, but also to break free from the gallery-collector business model and what they deemed to be an overactive art market. They wanted to make artworks no one person could truly own. Artnet
Patrick Doughtery's Sapling Sculpture
Patrick Doughtery Specializes in site specific works, creating art that looks as if it was found rather than made.
Cornelia Konrads Floating forest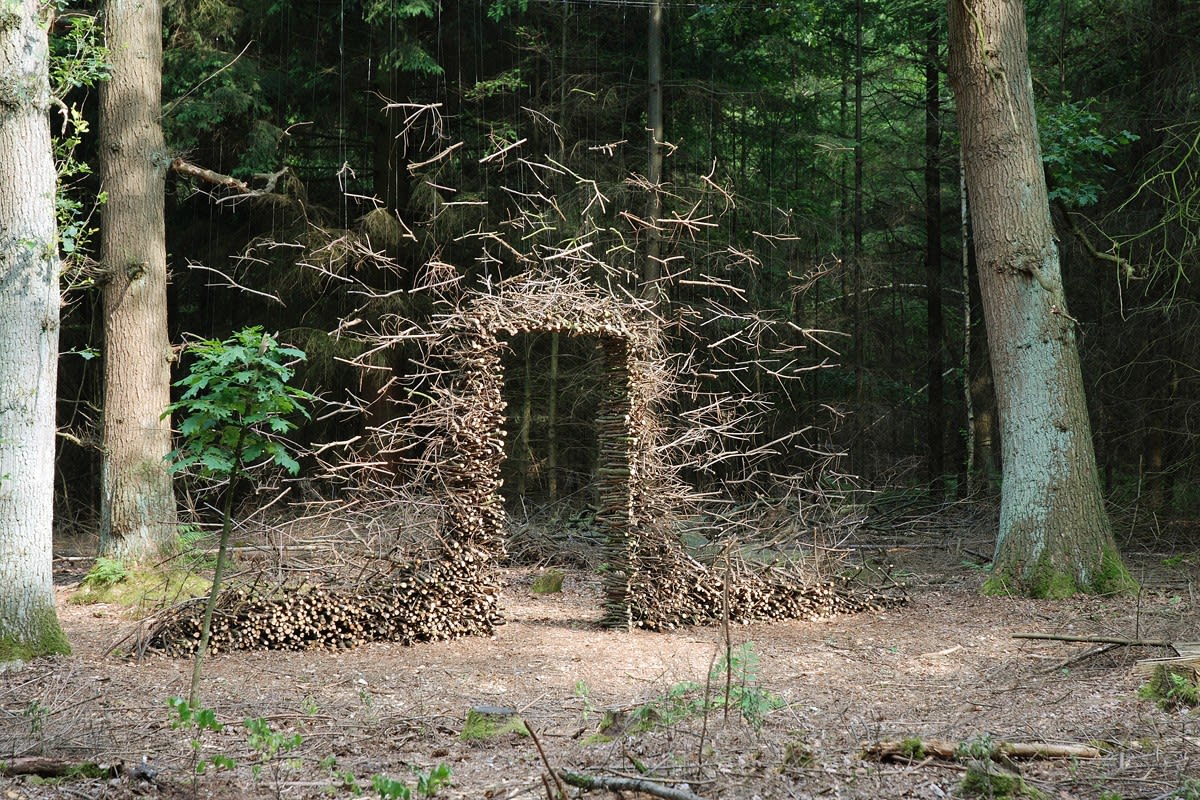 Cornelia Konrads, Passage, 2015
Cornelia Konrads creates mind-bending site-specific installations in public spaces, sculpture parks and private gardens around the world. Her work is frequently punctuated by the illusion of weightlessness, where stacked objects like logs, fences, and doorways appear to be suspended in mid-air Colossal
en plein air
"Art is born of the observation and investigation of nature."

Marcus Tullius Cicero
En plein air is French for "outdoors" and it simply means to paint what you see outside while you are outside. One of the first things you learn when you work en plein air is that nature does not hold still. Everything rooted to the ground sways and the clouds change in the sky and they create infinite patterns of shadows on the ground.
Jirsa's Electric lands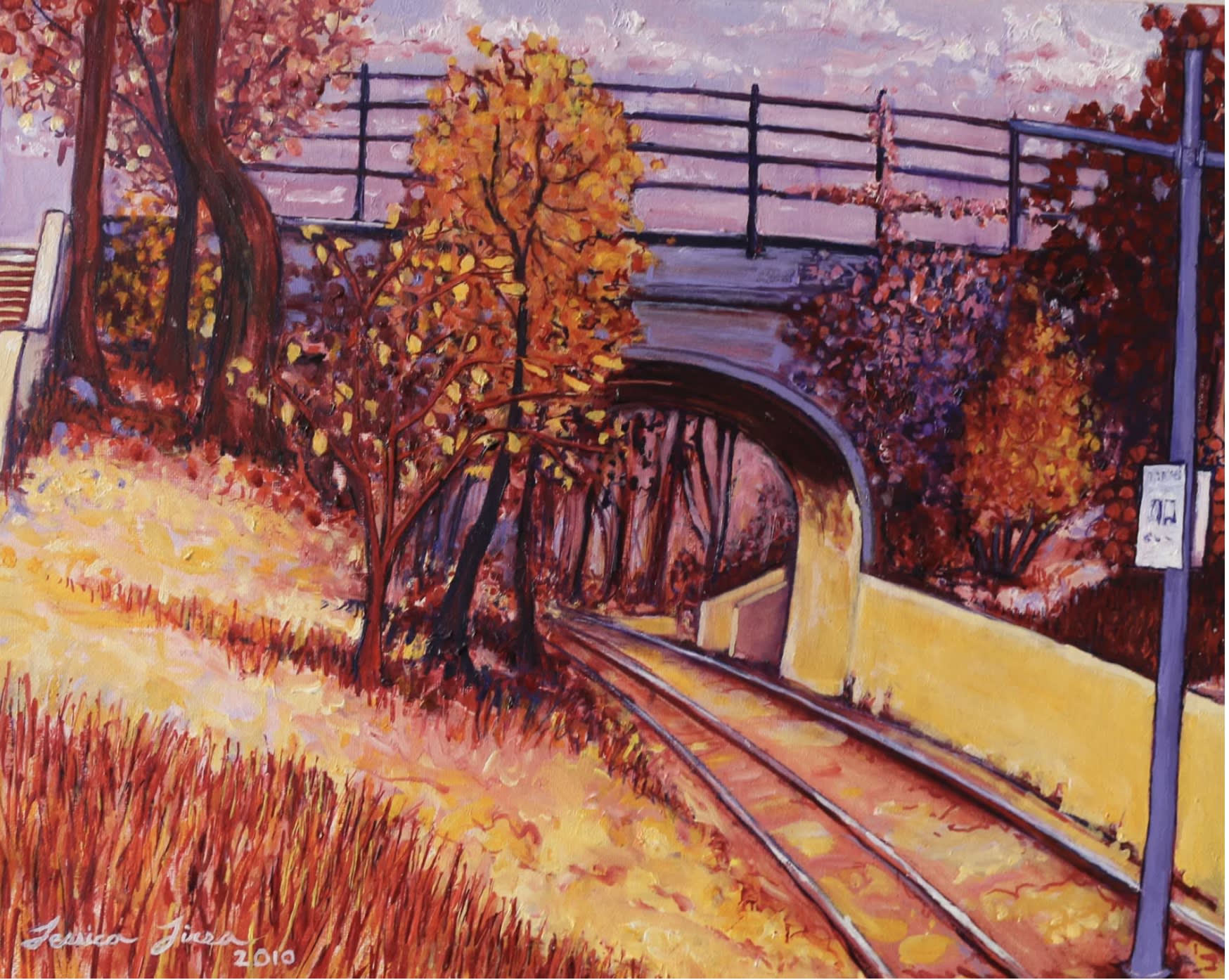 Jirsa paints electrifying plein air landscapes around San Francisco Bay Area. She selects her color pallet based on the feel of the location. Jirsa
David Hockney's IPad Paintings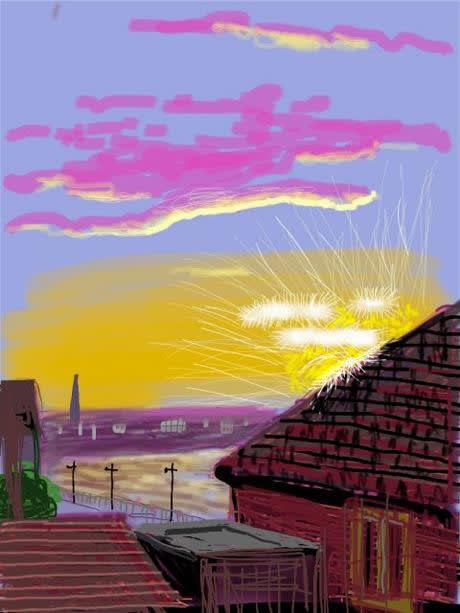 "I would suggest they really look hard at something and think about what they are really seeing." The materials don't matter: a pencil or an iPad app such as Brushes," Hockney says of his plein air paitnings. The Guardian
GUERRILLA STYLE GARDENING
"I'm an artist. Gardening is my graffiti. I grow my art. I use the garden soil like it's a piece of cloth, and the plants and the trees, that's my embellishment for that cloth. You'd be surprised what the soil can do if you let it be your canvas."
Guerrilla gardening is the act of gardening on land that the gardeners do not have the legal rights to cultivate, such as abandoned sites, areas that are not being cared for, or private property.
Moss GrafFiti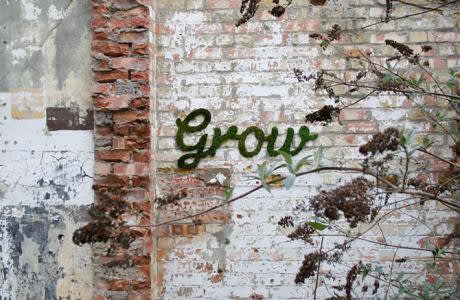 Moss grafitti is. Permaculture Magazine
Seed bombs
Seed bombs are
Ron Finley's gangsta gardens
Ron Finley is known for
Art with kids
"In the end we will conserve only what we love; we will love only what we understand; and we will understand only what we are taught." Baba Dioum
Mandalas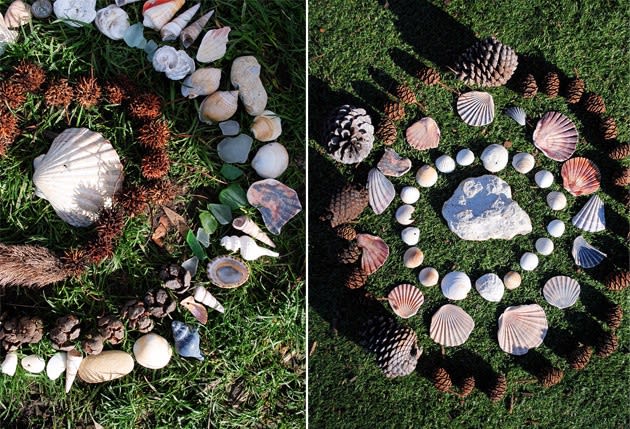 Painted Leaves
Pressed Flowers in Air Dry Clay
In Conclusion
In this article I showed you different takes on nature in art such as:
Reimagining nature
Using natural materials in traditional artforms
Sustainability and Conservation
Floral Art
Art that Interacts wtih Nature
Sculpting with nature
Plein Air painting
Guerrilla gardening
Art with kids
We explored artists: Adele Gilani, Peter Doig, Charles Burchfield, Lina Tharsing, Melissa Dickenson, Damien Hirst, Sheila Hicks, Chris Jordan, Barry Underwood, Jason Mecier, Naziha Mestaoui, Tiffany Turner, Matthew Baker, Anthony Ward, Christo, The Land Art Generator, Nils Udo, Andy Goldsworthy, Michael Heizer, Patrick Daughtery, Cornelia Conrads, Jirsa, David Hockney and Ron Finley
If you're suffering with an artistic block right now, open a window, step outside and see all that Mother Earth has to offer.